Selfie ring light with flexible stand
Selfie ring light with flexible stand is a very good option for mobile users in Pakistan to capture videos and photographs on any positional and any angle. The one side of the flexible stand is attached with a clip to catch any position and on the other side we can connect a mobile phone, so the issue of position is resolved, and updated ring light resolves the fluorescent light required for batter photography.
There are three types of lights available in selfie ring light with flexible stand. We can select the mode of light whether it could be cold, soft light or warm light. Also, we can adjust the brightness of light according to the environment.

It's for all age groups whether you are a kid or you are a girl it's for all.

We can make video calls with your loved one's in appropriate light.

We have use this while sitting in bedroom because it can adjustable on any place with very few restrictions 

You can take your classes on any place any time .

Keep in touch with your students or audience
If you are a makeup Artist
If you are a makeup artist than you can teach people while on online platforms like youtube

If you are already have fan following that you can increase the response rate while respond your fans on quicker ways.

You can teach the tips of makeup to your loved one's

If you run a business of makeup store than you can implement the newer products on yourself and guide your customers

If you run a business of beauty saloon than you can conduct meetings online or teach latest techniques to the staff members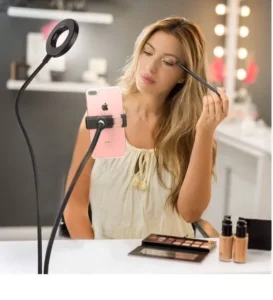 If you wants to record happiest moments while teaching your little baby than its very easy to be usageable

Gays the product can be used as a study purpose LED 

If you wants to capture delights full moments on dining table than its easily can be adjustable on dining table and you can capture lovely moments 

If you wants to talk with your mom on dining table than its the product that you was finding
For influencer marketing its the key roll to be updated with your fans so no need worry to make arrangements 
Make live sessions with your audiences to increase engagements with your fans 
If you take care of your audience than you can gain benefits of more projects in influencers 
Be in contact with your vendors and keep  yourself be connected with partners
The ring light have three operative modes 

Mode1: White

Mode2:Warm Yellow

Mode3:warm White

Variable rheostat uses to adjust intensity of light and colors of light.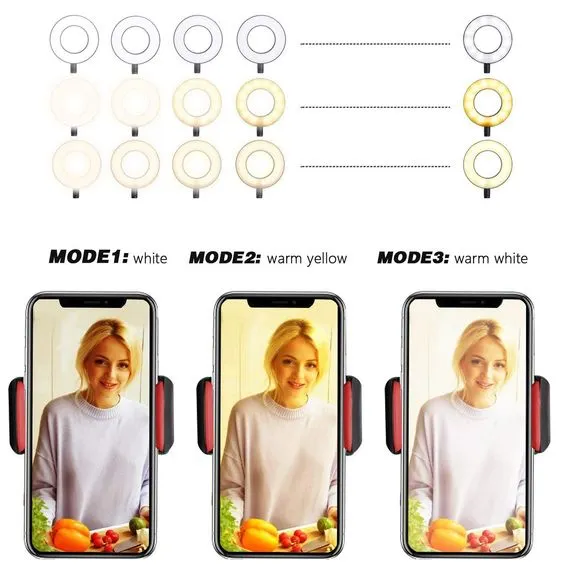 There are three methods to to keep it in running modes
Via mobile phone port- In this you can connect it directly with mobile phone jack

Via PC/LAptop- In this you can connect the device directly to the PC port

Via Powerbank- In this you can connect the device with a power bank and enjoy continuity of working gadgets without any interruption 
Best Product for Live streaming.
Selfie Ring Light With flexible stand is the best modern product for video shooting of your youtube channel.
The selfie ring light with flexible stand follows the quality standards & made originally for video shooting of smaller business or yourng enterpenures.
Why 2 IN 1 LED Selfie Ring Light with Flexible Stand is batter then before?
Ring Light:
Mobile phone gadgets have become an essential partner in our life to ease essential things in an easy manner. The ring light is a very common and very good product with many features and purposes. Some people need it for product photography, some use this for personal photography and some use this for live streaming,video capturing for better video results etc. 
Problems in traditional ring Lights
The common issue in regular or conventinal ring light is that it is hung on a stand and the legs called tripod stands on that stand. We can easily capture our photography if we are standing in front of the light  while if you don't have enough space where it can easily be standable. In other words you are not fully flexible in allocation of position of stand. 
The second main drawback of a regular selfie stand or ring light stand is that we can't adjust its position according to our requirement. Like a limited position, angles are available while using the regular selfie stand . 
Modern and best alternative for tripod stand 
Everyone in this modern era is a frequent user of mobile phones and tripods.The tripod which people use before because at that time only hand holding cameras were used for photography. Mobile phone cameras had very limited resolution capacity and the megapixels of mobile phones were very low. But nowadays mobile phone cameras have replaced regular cameras because of extraordinary resolution.
Because nowadays everybody is using mobile cameras for shooting, people were requiring such an alternative like tripod that fulfill requirements according to the mobile phones. Mobile Pouch Shop have just released an extraordinary newly and best developed product and a batter alternative for mobile tripod stand stand i.e lazy/flexible  mobile stand in Pakistan.
How to buy selfie ring light with flexible stand?